MONROE M-2 & M-3 ESTIMATE PRODUCTION - DEC 1914 TO AUG 1917
| | | | | | | | | | | | | | | |
| --- | --- | --- | --- | --- | --- | --- | --- | --- | --- | --- | --- | --- | --- | --- |
| YEAR | PLANT | JAN | FEB | MAR | APR | MAY | JUN | JUL | AUG | SEP | OCT | NOV | DEC | TOTAL |
| 1914 | FLINT | | | | | | | | | | | | 5 | 5 |
| | S/Nís | | | | | | | | | | | | 505 | |
| 1915 | FLINT | 120 | 125 | 150 | 150 | 150 | 200 | 200 | 300 | 300 | 300 | 300 | 200 | 2495 |
| | S/Nís | 625 | 750 | 900 | 1050 | 1200 | 1400 | 1600 | 1900 | 2200 | 2500 | 2800 | 3000 | |
| 1916 | FLINT | 150 | 200 | 250 | 250 | 150 | | | | | | | | 1000 |
| | PONTIAC | | | | | | | 100 | 150 | 200 | 175 | 150 | 125 | 900 |
| | S/Nís | 3150 | 3350 | 3600 | 3850 | 4000 | | 4100 | 4250 | 4450 | 4625 | 4775 | 4900 | |
| 1917 | PONTIAC | 125 | 125 | 150 | 125 | 125 | 125 | 124 | 71 | | | | | 970 |
| | S/Nís | 5025 | 5150 | 5300 | 5425 | 5550 | 5675 | 5799 | 5870 | | | | | 5370 |
MONROEíS PRODUCTION HISTORY Ė 1915-18
The experimental model 1915 Monroe M-2 made its first public appearance, "finished in the rough," in a downtown parade in Flint on Thursday, October 29, 1914, to promote the good roads movement. It was first displayed at the Flint Chevrolet dealer showroom of the Garner Auto Sales Company on Saturday, December 4, 1914, with the first deliveries starting January 1, 1915. I estimate approximately five experimental and show cars were completed by the end of December 1914.
The Monroe roadster was assembled at a five to eleven cars per day output, with a reported 3,500 M-2ís of the 1915-1916 models coming out of the former Imperial Wheel, and then Chevrolet Sixes Plant No. 2 (Type C and Light Six), on Hamilton Blvd. next to the larger Buick factory in north Flint.
The 1915-16 Monroe M-2 was distributed by the Chevrolet Sales organization, with the Chevrolet distribution contract expiring at the end of May 1916. It is interesting that not all Chevrolet dealers chose to be Monroe dealers, and there were a few Monroe dealers that were independent, and not Chevrolet dealers.
1916 MODELS
It is generally believed the first 1,000 Monroe cars built, starting at Car No. 501 up to No. 1500, were the 1915 models, with the 1916 models at Car No. 1501, beginning about the middle of July 1915. The 1915 Monroe Parts Price List states that the Mason engine bore size was increased from 3 to 3 1/16 inches after engine number 1500, which is believed to coincide with the start of the 1916 model year. Mason attached a brass Model and Serial Number Plate to the left side crankcase, and it makes sense that the Mason Model 15 was the 3 inch bore size, with the Model 16 using the increase 3 1/16 inch bore.
THE AUTOMOBILE, July 22, 1915, reported the electrical system was standard on all the 1916 Monroes, and I used this reference when I wrote the August 1990 REVIEW that all 1916 models had the electric starter as standard. Now, I am not so sure. Readers might have noticed the September 24, 1915 Monroe ad in the May 1996 REVIEW , in which both the standard and electric starter models were listed. Even Chevroletís Kansas City Branch advertised in October 24, 1915, the no starter version!
END OF BUILT IN FLINT
By early February 1916, there had been rumors that Monroe was about to merge with the Chevrolet company, but it just was not to be. Chevrolet displayed its own 1916 "Four Ninety" Roadster at the January auto shows, and Monroe started its own design work on a new light five passenger touring.
In April, Monroe traded its Flint plant to General Motors, for a smaller, vacant, GM plant in Pontiac, where the Welch had been built. GM paid an additional $80,000 in this trade plus cash deal. It was a fair transaction for both parties, since Buick required this next door plant for its expansion, and Monroe was consolidating is plants in Pontiac, where the Monroe Body Company had been operating since 1910. The last of the 3,500 M-2ís was shipped from the Flint plant by the end of May, and Monroe moved out and legally started doing business in Pontiac June 1, 1916.
1917 MODELS
The model 1917 Monroe M-3 started at car number 4001 and was first announced in July 1916, equipped with the Sterling 3 x 1/4 inch bore and stroke engine. This was the same engine that was used in the 1917 Scripps-Booth Model C Roadster. It was reported that 2000 M-3ís were scheduled for manufacturing for the 1917 model year. However, by July of 1917, the Monroe company was in financial trouble, having missed some payments on a few suppliers accounts. With Scripps -Booth now owning the Sterling Motor Company, and Chevrolet being involved in the Scripps-Booth Corporation as its largest stockholder, with 25% and W.C. Durant mostly in control, Scripps-Booth became a major accounts past due creditor. R.F. Monroe also had an outstanding loan from the Chevrolet Motor Company of Michigan that was from the early 1916 buyout of Chevroletís investment in the Monroe company before it move to Pontiac.
W.C. Durant suggested to Chevroletís management, that if Monroe could not make good on its Chevrolet loan payment, the Monroe company could turn over to Chevrolet a number of 1917 Monroe M-3 Roadsters models at the $450 wholesale cost to be resold by the Chevrolet dealer organization in a similar arrangement to the 1915 -16 agreement. It is believe that a batch of some 200 - 250 M-3ís (left over, unsold, 1917 production models) were thereby disposed of by Chevrolet in the Midwestern states as 1918 models.
1918 MODELS
The Monroe company, based in Pontiac, never had the wonderful distribution and marketing organization that the Chevrolet had developed. The larger 1917-18 Monroe M4, M5, and M6 Touring cars never did meet this now independent company expectation of increased production -- never selling more than 2000 units a year!
The former Indiana State Chevrolet Distributor and Indianapolis dealer, W.S. Small, took over the distribution of the Monroe cars, beginning on January 1, 1918, dropping the sales of the smaller M-3 chassis. It is believed that actual 1918 M-3 production was wound up in August 1917 with only 71 units built for the 1918 selling season-- with the last 400 to 500 cars being left over 1917 models that were just sold out of inventory for the fall and early winter months of 1917.
Then things got progressively worst. Sales dropped off even further as the United States got more involved in the World War, with the engine plant in Port Huron finally being sold in May 1918.
With excess capacity, Monroe leased part of its Pontiac plant to General Motors for Samson Tractor production in 1918. By Fall of 1918, Monroe was bankrupted. Small purchased the assets of the company and moved production for the 1919 models to Indianapolis. The Pontiac plant was sold for only a reported $75,000 in December 1918 to a non automotive firm..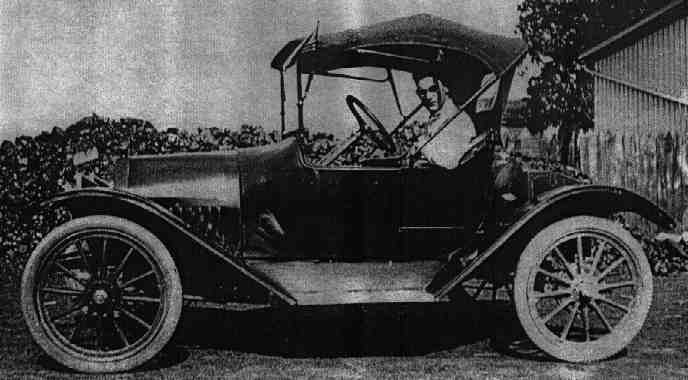 JOHN FREY'S M-2 ROADSTER
This original photo of a Monroe M-2 Roadster, owned by John Fey, was taken in the 1915-18 time frame. It was sent in by Earl Frey, John's nephew.